This holiday season shop, dine and celebrate local. With over 65 independently owned shops, galleries and eateries, Yellow Springs is EVERYONE'S FAVORITE PLACE to find the perfect holiday gift or just relax with family and friends. A Winter Wonderland of Local Gifts, Food & Fun! Click on the links below to find listings of events, shops, restaurants and nature.
HOLIDAY EVENTS
(Most Event Names are links to pages with more information!)
All Season
11/14-1/13/2020 "Candy Canes & Cheer" Gallery Show @ Village Artisans. Gallery Open: M-Th 11a-5p, Fri & Sat 11a-6p, Sun 12-5p.
11/16-12/29 Holiday Art Jumble,  A sale of donated art & treasures to benefit YSAC. 111 Corry St. Weds-Sun 1-4PM. Extended hours (11a-5p) on weekends & Dec 23. Closed Thanksgiving, Christmas Eve, & Christmas.
11/23- ? Young's Choose & Cut Trees, 11a-5p M-F. 9a-5p Sa & Su. While Supplies Last.
11/29-12/30 Legendary Lights of Clifton Mill, 6-9p, 3.5 million lights adorn the mill, gorge and bridge $10 ea over 4
Sun-Thurs, Now-Christmas: $10 off a room at Mills Park Hotel with receipts showing a minimum of $25 spent at local businesses. One discount per room. Any room.
December
12/3 Giving Tuesday, Support Yellow Springs Non-Profit Orgs
12/3 Art in the Library: Holiday Edition, For kids 7+. Snack & holiday crafts. 
12/5 YS INK Arts Collective Art Show, House of AUM BrightLight balcony, 7-9p
12/6 Handcrafted Holidays Pop-Up Shop, Sherwood Florist, 1-8p, YSB
12/6 Joe Mullins & The Radio Ramblers, Clifton Opera House, 7-9p, $15
12/6, 7 & 8 Miami Valley Pottery Kiln Opening Sale, 10a-5p
12/7 Sip, Shop & Be Merry! Shop w/ Nina Carina @ Winds Wine Cellar, 11a-4p.
12/7 Santa Pancake Breakfast, 9-11:30a, YS Methodist Church. Games & Crafts, plus a photo with Santa. Children Free.
12/7 Queen City Promotions Presents "The Gift is Christmas" Clifton Opera House, 6-10p. $10 suggested donation.
12/5, 6, & 7 Jesus Christ Superstar with Ted Neeley in person, 7p (doors 6p), Little Art Theatre. $12. 
12/10 Holiday Snack Attack (For kids, 7+) YS Library, 3p. Make & eat holiday-themed snacks.
12/11 Tweens Read Book Club Holiday Event, 3p, YS Library. 
12/7 & 8 School Forest Festival, 9a-3p, 3567 Bryan Park Rd. Hot chocolate, cut-your-own-trees, and hayrides.
12/12 Teen Holiday Celebration, 4-5p, YS Community Library. Make Christmas treats, crafts for Hanukkah and Kwanzaa. Free. Ages 12+.
12/13 Handcrafted Holidays Pop-Up Shop, Brad Husk Ceramics, 1-8p, YSB
12/13 Winter Solstice Poetry Reading, Glen Helen Building, 7p
12/14 Holiday Fest Special Events in downtown Yellow Springs

Santa is in the House 11:30a-1p, House of AUM

Carriage Rides 2-5p, King's Yard

Luminary Walk, King's Yard to Mills Park Hotel, 5p

Community Photo at Mills Park Hotel, 5:30p

Heartstrings Holiday Concert @ YSAC: 7:30p

12/14 Clem & Thyme Nutrition Holiday Social, Enjoy hot cocoa & treats, mingle, learn about wellness programs. 4359 E. Enon Rd. 2-4p
12/14 "Candy Canes & Cheer" Village Artisans Open House, 12-6p
12/14 Lafferty Pike Presents "Christmas Around The World" A sparkling selection of lesser-known carols from many countries with costumes; Clifton Opera House, 4-5:45p, $10 suggested donation. Schmidt's food truck before the show.
12/14 Healing Backwards, Creating Forwards: Poetry and Music John Bryan Community Center, 6p. Fundraiser, $20 suggested donation. 
12/14 Wintersong 2 An evening of music: Choral, Solo, Piano, Violin. Wine bar & Refreshments. First Presbyterian Church. Donations. 7p
12/14 & 15 John Bryan Community Pottery Holiday Sale, 11a-4p
12/15 Johann Sebastian Bach, Mass in B Minor, presented by Yellow Springs Chamber Orchestra & Community Chorus. 7pm, First Presbyterian Church. Donations.
12/15 Wildflower Boutique Holiday Party, 5-7p.
12/17 After School Holiday Movie, For Kids Ages 5+. Free, YS Library. 3p
12/20 Handcrafted Holidays Pop-Up Shop, Wax + Wane Handmade Pottery, 1-8p, YSB
12/21 Traditional Holiday Concert, Yellow Springs Community Band 7:30p, First Presbyterian Church, Donations.
12/22 Michael Fitzpatrick Cello Concert, House of AUM. $25 Suggested Donation
12/31 Little Art New Year's Eve Party, Live Music, Grease (movie). $25.
12/31 NYE 2020 Gala, Mills Park Hotel, $150, DJ, Music, Food, Discounted Rooms, Breakfast & Late Check-Out. Reservations 319-0400
12/31 New Year's Eve Ball Drop, gather at Xenia & Short. Streets close at 11:30p and reopen at 1a.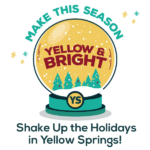 Click for our calendar with more details about these holiday happenings!