Shopping | Dining | Arts & Culture | Recreation | Wellness | Lodging | Farms & Food | A B C D E F G H I J K L M N O P Q R S T U V W X Y Z
Tom's Market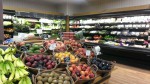 Tom's Market
242 Xenia Ave. Yellow Springs, OH 45387
www.facebook.com/Toms‐Market‐127497133963094/
Contact: Tom Gray, Owner
 
Full‐service grocery store with an extensive organic food and gourmet cheese selection. The deli counter has a wide array of specialty salads, daily hot specials and a growing array of paninis. Party trays are also available.
Full-service grocery & deli with daily breakfast & lunch specials.
Open 7:00 am-10:00 pm Monday-Saturday, 8:00am-10:00pm on Sundays.