Shopping | Dining | Arts & Culture | Recreation | Wellness | Lodging | Farms & Food | A B C D E F G H I J K L M N O P Q R S T U V W X Y Z
Village of Yellow Springs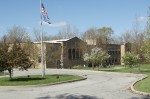 Village of Yellow Springs
An active, vocal citizenry and a responsive governing body and administration are the hallmarks of government in Yellow Springs. Municipal services include police, streets, electric, water, sewer and solid waste. The Village's governing body is a nonpartisan, five-member Village Council. The Village Manager supervises the day-to-day activities of the Village.The Village of Yellow Springs owns and operates several parks and recreational facilities.
Bryan Center, 100 Dayton Street includes a Gym, Youth Center, meeting facilities and government offices inside. Basketball & tennis courts, toddler playground, skate park and JBC Pottery Studio outside.
Ellis Park, Polecat Rd. on the Ellis Spur of the Little Miami Scenic Trail. Serene pond for relaxing & fishing; bird watching, hiking, picnicking; Lloyd Kennedy Arboretum.
Gaunt Park Pool & Fields 500 W. South College Street (767.7209) Public swimming pool open Memorial Day to Labor Day; Baseball, Softball and Soccer Fields; Playground; Picnic area.