Shopping | Dining | Arts & Culture | Recreation | Wellness | Lodging | Farms & Food | A B C D E F G H I J K L M N O P Q R S T U V W X Y Z
The Wellness Center at Antioch College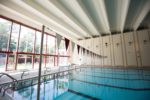 The Wellness Center at Antioch College
Our 44,000-square-foot fitness center includes a six-lane, competition-length indoor swimming pool; a large therapeutic whirlpool; basketball, volleyball, racquetball, badminton, pickleball, and tennis courts; fully equipped fitness space with state-of-the-art cardio and weight-lifting equipment. Programs include wellness retreats, certifications and trainings, swim lessons and group classes, such as yoga, pilates, interval training, aquatics, spin, ballroom dance and more; lounge and patio spaces and healthy snack bar. 
Day Passes and memberships available. 
Located on Antioch campus a few blocks from downtown, and bike path. 
Livermore Street at E. South College Street, Yellow Springs, OH 45387
Due to the COVID-19 Pandemic, the Wellness Center at Antioch College is closed until further notice. Please visit their website for updates.