YELLOW SPRINGS STREET FAIR FALL 2022

STREET FAIR IS BACK!

The Fall 2022 Street Fair is back and open for registration. Interested in registering for a booth? Are you a music or entertainment act?  You can also register to be considered for this years lineup.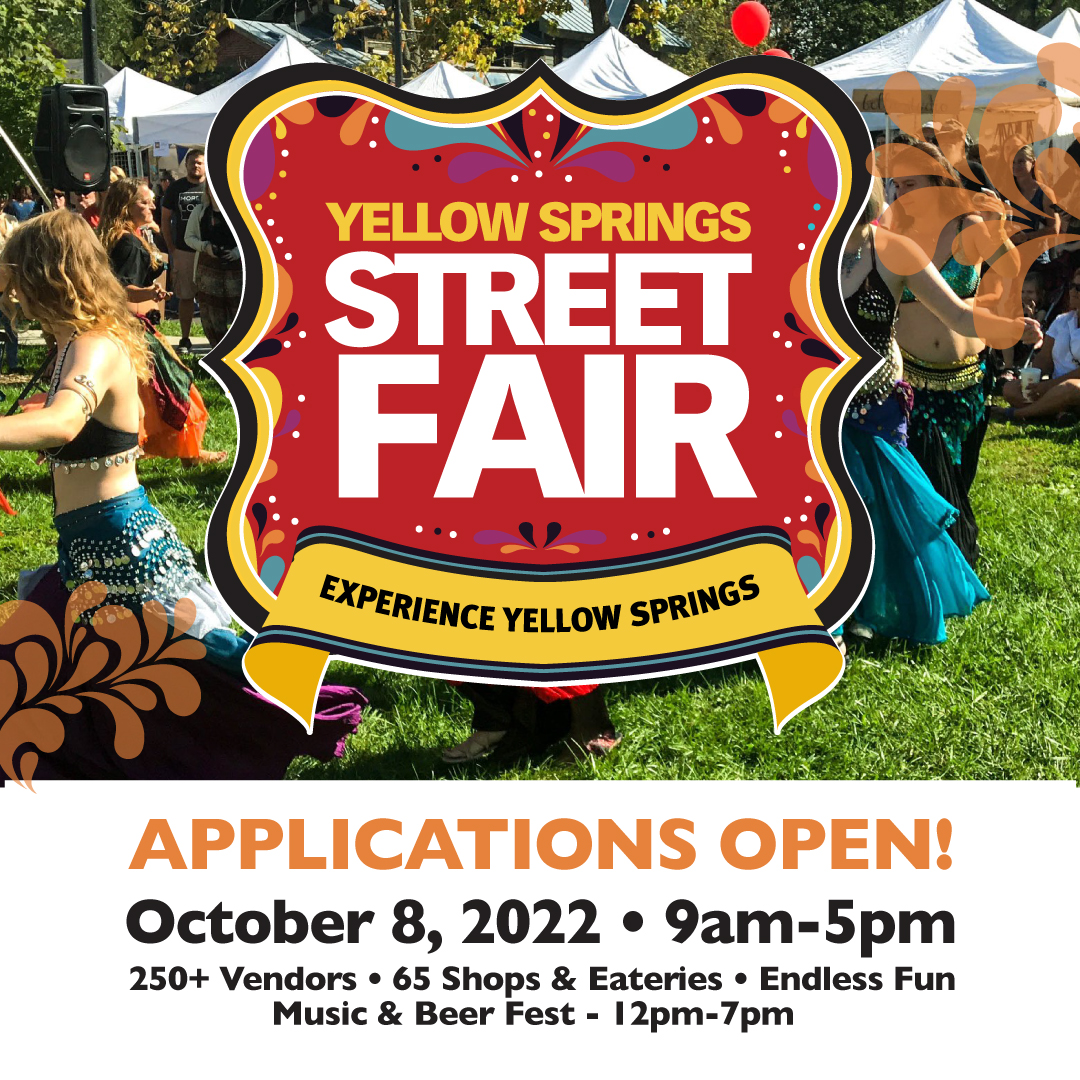 "Experience Yellow Springs" at the return of the Yellow Springs Street Fair on October 8th, 2022. With two music stages, a beer garden, live street performers, over 200 vendors, and a multitude of shops and restaurants in the beautiful village of Yellow Springs, it's a day you won't want to miss!  "After 2 ½ years and 5 canceled street fairs, the Chamber is excited to welcome back this classic Yellow Springs event. Our team and the Village of Yellow Springs are diligently planning to ensure a safe return of Street Fair with hopes that it provides the opportunity to experience the art, culture, and community of Yellow Springs!" (Jason Bailey, Yellow Springs Chamber of Commerce)
Registration for craft vendors, food vendors, and music/entertainment for the Yellow Springs Street Fair is now open. Local businesses with brick-and-mortar in the downtown business district will have booth preference close to their shops, and local vendors will be given preferential booth locations. The local vendor registration deadline is July 31st, and the overall vendor registration deadline is August 29th.
The Yellow Springs Street Fair is looking for volunteers to assist with set-up, tear-down, and the performance of the festival throughout the day. Positions are available all day, from 6AM until 6PM! Shifts are short, easy, and flexible, and volunteers get a FREE Street Fair t-shirt, and a ticket for a beer (or two non-alcoholic drinks) at our beer garden!
If you're interested in learning more about the different volunteer positions, or are interested in helping in any other capacity,  please feel free to contact the Yellow Springs Chamber of Commerce Event Team at info@ysstreetfair.com or (937)-767-2686.
Thank you to our sponsors: