Shopping | Dining | Arts & Culture | Recreation | Wellness | Lodging | Farms & Food | A B C D E F G H I J K L M N O P Q R S T U V W X Y Z
E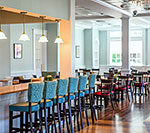 Ellie's Restaurant & Bakery serves homemade baked goods and southern-inspired comfort foods for breakfast and lunch. Wednesday through Saturday a light bar menu is available from 2:00-5:00 and dinner is available from 5:00-9:00. Located on the lobby-level of Mills Park Hotel, Ellie's offers both indoor and patio seating.
The Hotel is modeled after the 19th-Century Victorian home of William Mills, a local settler who financed the railroad through Yellow Springs and helped to build the town's infrastructure. The Hotel evokes much of the architectural style and detail from the original three-story home.
Where the locals gather for coffee and conversation. Serving coffee, tea, espresso, breakfast and lunch. Extensive wine and specialty beer selection with wine tasting and live music every Friday from 6:30-10:00 pm. (Cash only) State Liquor Store.
233 Xenia Avenue, Yellow Springs, OH 45387
In business since 1973, Epic is located in the heart of Yellow Springs. Inventory includes both new and used books on most subjects with an especially large collection of books on Buddhism, Yoga, and Western religion. Gift items include Russian Nesting Dolls, Music on CD both new and used, and handmade beaded jewelry. Come and enjoy a pleasant atmosphere, sit on the couch and have a cup of tea.
Note that this business is closed because of COVID-19 but is doing online sales.