Founded in 1804, Yellow Springs is a unique mix of rural and urban, with a thriving downtown and eclectic neighborhoods surrounded by farms and orchards that fill its markets with fresh local food.
The business environment is rich in creativity, camaraderie and engagement, and new zoning codes reflect an interest in creative business growth. Currently thriving businesses in Yellow Springs focus on wellness, education, local food, alternative energy and environmental sustainability.
Doing business in Yellow Springs offers competitive advantages to other areas of the country due to low costs, an educated workforce and both plentiful and affordable water and electric resources.
Educational Resources
Recognized as one of the most imaginative destinations in the region, Yellow Springs is a natural place to develop a business. We recommend enterprising entrepreneur consult with one of the regional mentoring and support groups about your business plans as a first step.
Yellow Springs Chamber of Commerce (937-767-2686)
Zoning, Permitting & Utilities
Yellow Springs is extremely responsive to the needs of business and will work with business owners to complete any necessary zoning or permitting processes required. Starting with the Village Zoning Administrator, you will be assisted every step of the way.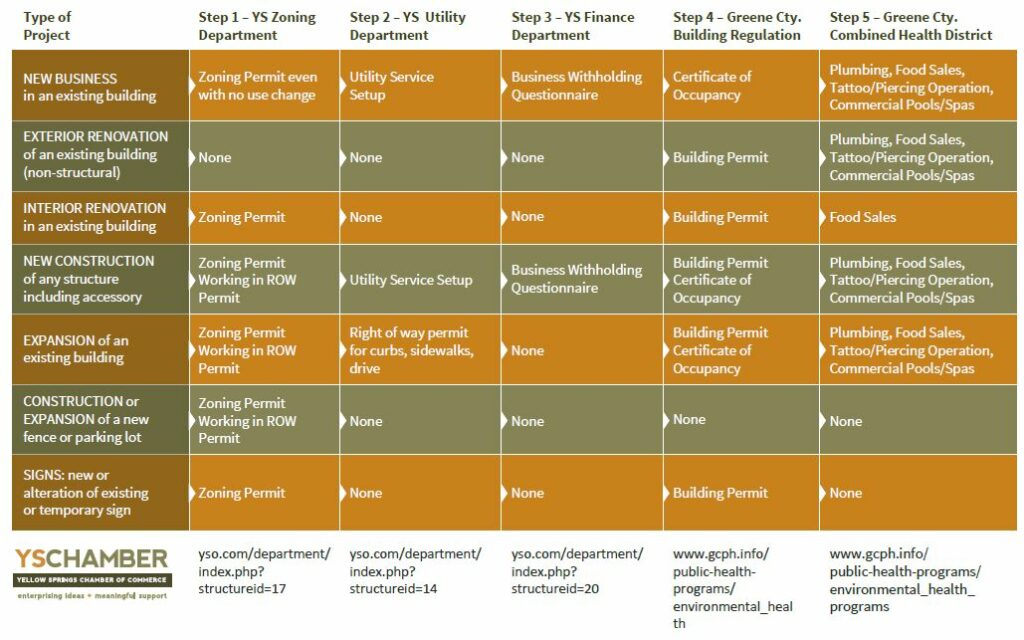 CLICK IMAGE TO VIEW PERMITTING FLOW CHART PDF
Financial Information
Yellow Springs offers a competitive tax structure to businesses and individuals. There are also several options for business financing through the State of Ohio.
Access
The Village of Yellow Springs is located 60 minutes from Columbus and 30 minutes from Dayton, Ohio, accessed by major interstates I-70 and I-675. Yellow Springs is also available via bikeway. The Little Miami Scenic Trail connects Yellow Springs to surrounding cities.
Attractions
While it's a common "scenic route" for travelers in the region, the Village is also a destination of its own year-round, with a thriving arts scene, popular restaurants and must-attend festivals. The Village is bordered by extensive recreational attractions, including the Little Miami Scenic Trail, part of the nation's longest paved trail network and 2,000 acres of woodland hiking trails. The Village is also home to two colleges.
Community
Named one of "America's Coolest Small Towns", Yellow Springs is culturally diverse, open, friendly and creative.
Yellow Springs was discovered around 1800 and was popular among those seeking the curative waters of the Yellow Spring. Today, nearly 3,800 people live in Yellow Springs.
The Village is home to two colleges, and its public schools have been designated "Excellent with Distinction". Nearly 90 colleges and universities are within 70 miles of Yellow Springs, including nationally renowned research institutions. 
In addition to the natural playgrounds that surround Yellow Springs, residents enjoy its pool, skate park, sports fields and tennis courts.
Local government and infrastructure support a high quality of life and foster business success, as well. As an environmentally conscious community, the Village purchases 85 percent of its power from renewable sources, such as solar, wind and hydroelectric.
Profile
Known for its authenticity and openness, Yellow Springs has a tradition of fostering and nurturing small businesses of every variety – from new retail concepts to high-tech custom equipment. Village staff is available to assist business owners as they expand or move to Yellow Springs, and is extremely responsive to the needs of business.
Founded in 1804
Population: 3,793
Support
If you have questions about locating or growing your business in Yellow Springs, our specialists can guide you through the process.
Yellow Springs Chamber of Commerce
Karen Wintrow,
Executive Director –
101 Dayton Street
Yellow Springs, OH 45387
937-767-2686
For Information about Living in Yellow Springs
Village of Yellow Springs
Denise Swinger
Economic Development
100 Dayton Street
Yellow Springs, OH 45387
937-767-1702
AVAILABLE BUSINESS LOCATIONS
| | | | | |
| --- | --- | --- | --- | --- |
| Type | SQ FT | Address | Contact | Phone |
| Mixed Use | 2 acres | Dayton & Railroad St. | Denise Swinger | 937-767-1702 |
| Office/Industrial | 30 acres | Center for Business & Education; Dayton-Yellow Springs Rd & E. Enon Rd. | Denise Swinger | 937-767-1702 |
| Office/Production | 4000 | 506 S. High St. | Mark Obstalecki | 630-677-4068 |